Requirements
DCP Clearing Member is a Clearing Member that has a DCP clearing license and is exclusively entitled to clear own spot market transactions.
For the financial settlement of transactions the DCP Clearing Member has to open a settlement account at a Settlement Bank of his choice. The legal relationship between a DCP Clearing Member, ECC and the Settlement Bank is defined by the Clearing Conditions and the Settlement Bank Agreement (if applicable).

Admission by ECC constitutes a fundamental precondition for exchange trading for DCP CMs. It ensures that settlement, delivery and hedging of the transactions are secured by the clearing house.

The following requirements are necessary for admission by ECC:
completion of a Know-Your-Customer (KYC) Questionnaire if requested by ECC and passing of the ECC KYC assessment or other applicable access policies of ECC
completion of a corresponding Settlement Bank Agreement with a co-operating Settlement Bank and ECC (if applicable)
approval as a Trading Participant for at least one ECC approved spot market where DCP Model is available
the conclusion of a balance group agreement with the respective TSO, in case of physical delivery
equity (incl. subscribed capital, capital reserves, retained income less any losses incurred in the course of the year and less intangible assets) of at least 50,000 Euros. Increases of the subscribed capital during a given year shall be proven by means of the submission of the registration message. A DCP can increase the equity by means of bank guarantees or guarantees of a parent company accepted by ECC.
Contribution to the Clearing Fund

Furthermore only companies based in a country approved by ECC for DCP Clearing can be admitted.
Domestic Countries – DCP readiness approvals
List of countries
| Domestic Country | DCP readiness approval |
| --- | --- |
| Belgium | Received March 2017 |
| Denmark2 | Received June 2020 |
| Finland | Received December 2021 |
| France | Received October 2016 |
| Germany | Received August 2016 |
| Hungary | Received June 2021 |
| Ireland | Received June 2017 |
| Netherlands | Received September 2016 |
| Poland | Received July 2022 |
| Switzerland | Received July 2017 |
| Sweden | Received July 2021 |
| United Kingdom | Received May 2017 |
| Others1 | To be determined |
1 Interested customers stated in a country which is not DCP eligible yet can contact directclearing@ecc.de for further information on status.
2 Acceptable legal forms:
public limited company (in Danish: aktieselskab)
privat limited company (in Danish: anpartsselskab)
partnership (in Danish: interessentskab)
limited partnership (in Danish: kommanditselskab)
an association with limited liability (in Danish: "forening med begrænset ansvar")
company with limited liability (in Danish: "selskab med begrænset ansvar")
KYC Procedure
A company applying as a DCP Clearing Member at ECC has to pass the KYC (Know-Your-Customer) process at ECC. He needs to provide a signed and completed KYC questionnaire if requested by ECC. Additionally the following documents are required:
Commercial registry extract (no older than 3 months) in original
Financial statements from the last fiscal year. If no financial statement is available, business plan of the business activity for the next 3 years
Powers of attorney of the legal representative and the corresponding passport copy (scanned color copy)
Organizational chart explaining the shareholder/ownership' structure, up to the Ultimate Parent level as well as the direct and indirect beneficial owners.
Based on the information given in the KYC questionnaire, the accompanying documents and other information (e.g. Internet, Reuters) ECC calculates a score. Based on this score the applicant is assigned to a risk category which will decide whether to accept or refuse the company's application.

In case the DCP CM notifies any material change according to ECC Clearing Conditions section 2.1.5 ECC might request an updated KYC Questionnaire.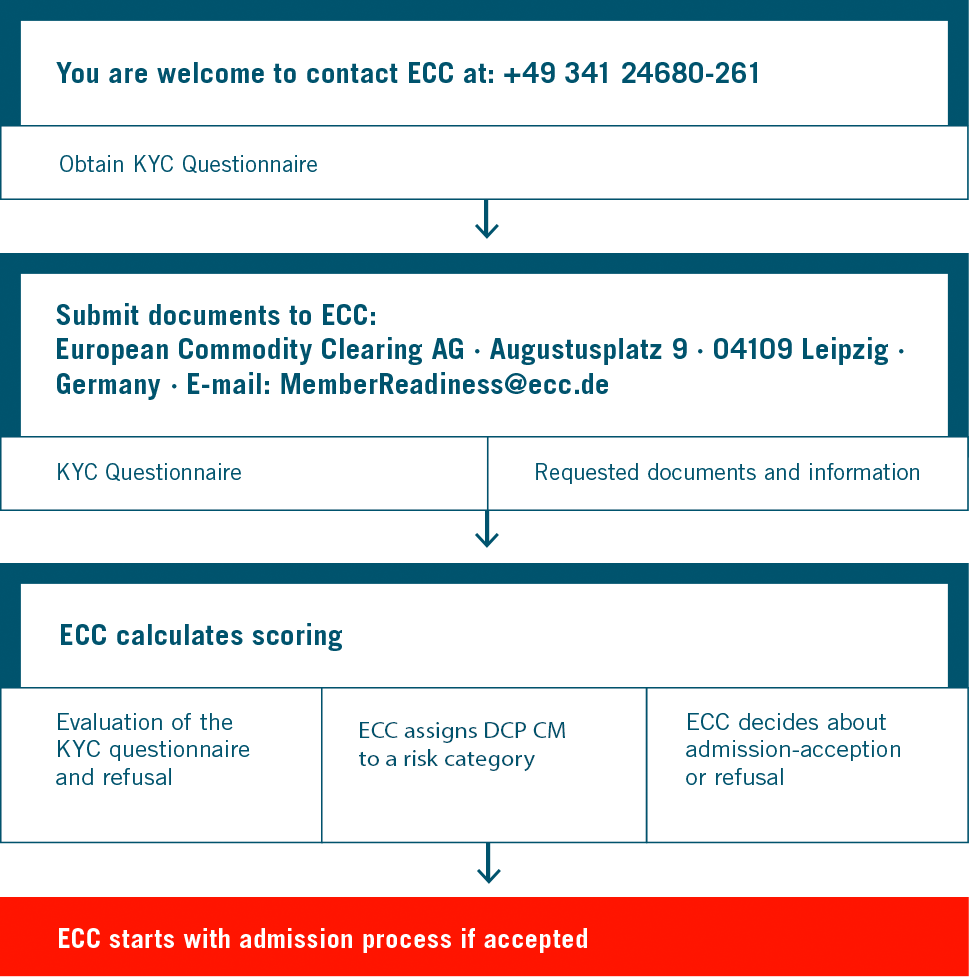 Admission Process
The admission by ECC is divided in two parts:
After receiving the originals of all required documents, ECC will commence the admission process. The documents will be examined for completeness as well as correctness. For your convenience you may also send us a scan in advance in order to avoid mistakes and guarantee a swift admission process.
As soon as all confirmations are available, admission will be issued and information sent to the Partner Exchange.
Admission Process - Overview
Extension of a DCP CM Membership - New Products
To extend the existing DCP Clearing  license to another product the respective Trading Participant Form has to be submitted to ECC. A DCP CM can only trade on spot markets which fulfill ECC's requirements to the DCP model.
Connected Banks
Connected banks are institutions which maintain one or more Settlement Accounts for DCP Clearing Members and have entered into an agreement with a Forwarding Bank of ECC. A forwarding bank is an institution that maintains a Settlement Account for ECC and that is connected to several connected banks.
The following table contains a list of financial intermediaries that currently offer the service of a Connected Bank to DCP CM of ECC. Please be advised that the decision to accept a company as a client for its payment services rests with the Connected Bank alone.
Is your preferred bank not on the list? ECC's Forwarding Bank, ABN AMRO N.V., maintains a large network of connected banks. Please reach out to our Financial Settlement Team to check whether your preferred bank's BIC codes are connected to ABN AMRO Bank N.V and whether your bank is a direct participant in T2.
Connected Banks
List of Connected Banks
| Name | BIC Code | Currency | Headoffice |
| --- | --- | --- | --- |
| HSBC BANK PLC | MIDLGB22XXX | GBP | GB |
| NORDEA BANK FINLAND PLC LONDON BRANCH | NDEAGB2LXXX | GBP | GB |
| BANK POLSKA KASA OPIEKI SA - BANK PEKAO SA | PKOPPLPWXXX | EUR | PL |
| KBC BANK NV | KREDBEBBXXX | EUR | BE |
| DEUTSCHE BANK AG-POSTBANK BRANCH (FORMERLY DEUTSCHE POSTBANK AG) | PBNKDEFFXXX | EUR | DE |
| DZ BANK AG (FORMERLY WGZ BANK AG) | GENODEDDXXX | EUR | DE |
| HSH NORDBANK AG | HSHNDEHHXXX | EUR | DE |
| UNICREDIT BANK AG | HYVEDEMMXXX | EUR | DE |
| DANSKE BANK A/S | DABADKKKXXX | EUR | DK |
| JYSKE BANK A/S | JYBADKKKXXX | EUR+GBP | DK |
| NYKREDIT BANK A/S | NYKBDKKKXXX | EUR | DK |
| Sydbank A/S | SYBKDK22XXX | EUR + GBP | DK |
| NORDEA BANK FINLAND PLC | NDEAFIHHXXX | EUR | FI |
| BNP-PARIBAS SA (FORMERLY BANQUE NATIONALE DE PARIS S.A.) | BNPAFRPPXXX | EUR | FR |
| CM - CIC BANQUES | CMCIFRPPXXX | EUR | FR |
| LCL LE CREDIT LYONNAIS | CRLYFRPPXXX | EUR | FR |
| Societe Generale | SOGEFRPPXXX | EUR | FR |
| ABN AMRO BANK N.V. UK BRANCH | FTSBGB2LXXX | GBP | GB |
| BARCLAYS BANK PLC | BARCGB22XXX | GBP | GB |
| CITIBANK N.A | CITIGB2LXXX | GBP | GB |
| HSBC UK BANK PLC | HBUKGB4BXXX | GBP | GB |
| KBC BANK NV LONDON | KREDGB2XXXX | GBP | GB |
| LLOYDS BANK PLC | LOYDGB2LCTY | GBP | GB |
| AIB BANK | AIBKIE2DXXX | EUR | IE |
| ING LUXEMBOURG S.A. | CELLLULLXXX | EUR | LU |
| ABN AMRO BANK N.V. | ABNANL2AXXX | EUR + GBP | NL |
| ING BANK N.V. | INGBNL2AXXX | EUR + GBP | NL |
| RABOBANK NEDERLAND | RABONL2UXXX | EUR | NL |
Limited DCP CM Membership – nEHS Transactions only
This DCP CM membership is strictly limited to the participation in nEHS Transactions.
Deviating from the preconditions for a regular DCP CM membership, a liable equity of at least 25,000 EUR is sufficient. Furthermore a nEHS registry account needs to be opened at DEHSt, replacing the requirement to open a settlement account with a bank and to conclude a balance group agreement with a TSO. The application for admission is submitted via the respective portal, no admission forms need to be handed in separately.
Further information about the nEHS and the respective admission process may be found here
Approved Markets
Admission as Trading Participant at a spot market which is approved by ECC to be DCP ready is one of the prerequisites to become DCP Clearing Member.
The following markets have been approved by ECC and will continuously be enhanced by ECC.
Exchange
Product Name

 

EPEX SPOT

German Power Spot (IT|IT1|ST)
Belgian Power Spot (IT| IT1|ST)
Austrian Power Spot (IT|IT1|ST)
French Power Spot (IT|ST)
French Capacity Guarantees
Swiss Power Spot (IT|ST)
Danish Power Spot (IT|ST)
Dutch Power Spot (IT|IT1|ST)
UK Power Spot (IT|IT0|IT1|IT2|ST)
Norwegian Power Spot (IT|ST)
Swedish Power Spot (IT|ST)
Finnish Power Spot  (IT|ST)
Polish Power Spot (IT|ST)
European Guarantees of Origin

EEX

French Guarantees of Origin (primary auction)
National Emission Trading System Certificates (nEHS) / nEZ
HUPX
Hungarian Power (IT/ST)

SEMOpx

Irish Power Spot (IT|IT1|IT2|IT3|ST)
Northern Irish Power Spot (IT|IT1|IT2|IT3|ST)